Kite Surfers - Stockholm kite school hold kitesurfing courses throughout the summer and guarantees 100% customer satisfaction!
Learn Kite Surfing by joining our affordable kitesurfing courses. For your safety, do your kitesurfing course with us at Kitesurfers.se who always makes sure you are 100% safe during your kitesurfing course. We always use a helmet and flotation / Impact vest on all our kitesurfing courses

Kite Surfers is a safe kitesurf school which follows the international standard!
We at Kitesurfers Stockholm Kiteschool has taught Kitesurfing since 2003 and all our instructors are always trained by IKO, and follow their internation all standard to keep high quality of both kitesurfing course and security. Here at Kitesurfers we value your experience in connection with your safety and package it as a whole, so that you can bring the knowledge with you and feel safe when you're out and kite surfing on your own after your kitesurfing course.
Kitesurfing school in Stockholm - Kitesurfers.se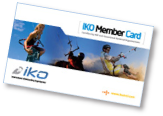 At Kitesurfers we live for kitesurfing, and have, over the years taught 1000's of satisfied people to kitesurf. The sport is growing very rapidly, and developments in equipment also goes very quickly. Therefore, we make sure to always have the latest and greatest kitesurfing equipment available to our students. P>
Your satisfaction is our biggest priority! At Kitesurfers, we have 100% satisfied customers that all learned to kitesurf to their desired level. We are transparent and honest with what can be expected of each kitesurfing course. IKO - International Kiteboarding Organization is a international kitesurfing organization that trains instructors to teach kitesurfing in a safe and sustainable way. We follow IKO's guidelines and after each course you will receive an IKO certificate which is valid throughout the world .. With us you will always be satisfied. B> p>
Wind Warranty
How fun it is to go out and try to fly a kite that dont event lift from the water because it is too little wind? This is the way we seen some other kitesurfing schools teaches and call it for kite surfing ... We call that kite struggling!!! If the wind dies, or if the forecast fails during your kitesurfing course we rebook for the remaining hours of kitesurfing course to the next suitable day. p>
Frequently Asked Questions
Bring with you; swimwear, lunch box, (which are easy to eat on the beach), hot drinks, water, comfortable clothing (for weather), sunscreen, sunglasses, towel. We have wetsuits that you borrow during kitesurfing course, but you have your own you can bring it too.
If you booked a private course, its only you and the instructor. If you booked a regular kite course you will probably be taught in a group of maximum 2 people on 1 kite. In this way you will take turns controlling the kite, help each other and learn from each other at the same time. Its also good because you can rest a bit in between the turns.
If the weather does not allow us to start or end kitesurfing course, we will reschedule the remaining hours to another date.
We have our office in Stockholm City and our partner shop Surfbussen . We start at the Surfbussen shop and drive to where the wind is best this very day. Normally within 30-60min radius from Stockholm.
IKO stands for International Kiteboarding Organization and is one of the global organizations that train instructors in kitesurfing. We at Kitesurfers are trained by IKO and keep their international curriculum and guidelines. learn more at IKO´s website

Gudrun Tomasdottir
Kitesurfer & pilot
Jens is a great instructor as he is very patient and inspirational. His relaxed personality and will to make you succeed are two of the qualities that make Jens Mortensen a great Kiteboarding instructor.
Lisa Andersson
I took my Kitesurfing course at Kite Surfers Stockholm and can only recommend this kite school warmly. The guys have a relaxed attitude and had the ability to customize the kite course for my level that made could learn quickly without feeling pushed. Clearly good value for money.
Learn to kitesurf thru ourunique 3-step program
Through long experience, we have developed a unique teaching model that minimizes the theory of when you are on the beach and want hands-on. We are the only school in Stockholm with this unique model, so when other schools stands and pulls theory on the beach, we are already in the water and learn.
Buy your Kite course in Stockholm today! +

Your course begins the same day as your purchase!
Buy and book your course online here at our website and get direct access to the online course with PDFs, text, images, and instructional videos and launch your kite career today.

Do our Kitesurf test online
After reading the information you have access to after your purchase you can make online test to see how much you've learned before the course starts.

Attend your Kitesurfing course and become IKO certified!
Since you have already learned a lot of theory before the course, you will have extra easy to master and understand the practice.
Stockholm Kite School - Kitesurfers - We teach you kitesurfing in Stockholm in a safe and fun way. We have experienced IKO qualified instructors who will guide you through our affordable courses.